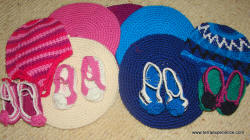 Books for Sale and References: Mayan and Guatemalan Textiles and Culture

Our book list focuses on just a small part of today's Mayan culture: Textiles and Dress, , Arts and Crafts, Living Mayan Culture, Historical Mayan Culture and Music. If you are interested in other aspect of the culture we will be gradually putting links to major sources of information on other aspects of the culture below.

We also carry children's books about Guatemala, Mexico, Nicaragua and the Mayan culture: to Children's Books
Click on Book Cover for more information


Name and Author

(alphabetically by author)

Price
Textiles
³Threads of Identity: Maya Costume of the 1960's in Highland Guatemala; Patricia B. Altman, and Caroline D. West.

more (CP, M)*

$35.00
(softback, used in very good condition) sh

³Guatemalan Textiles Today: The Art and Techniques of Weaving, Dyeing, Spinning, Crocheting, Looping, and Netting Guatemala Guatemala Today, Patricia B. Altman, and Caroline D. West, 1978 200
used hardback, very good condition

ADD

³Confradia, Mayan Ceremonial Clothing from Guatemala; Linda Asturias de Barrios, Rosario Miralbes de Polanco

more (CP, M)*

$25.00
(paperback) sh
³Comalapa: Native Dress and its Significance; Linda Asturias de Barios 1985.

more (CP, M)*

$38.00
(paperback) sh

³Santa Maria de Jesus: Costume and Cofradia; Linda Asturias de Barrios, Barbara Knoke de Arathoon, Idalma Mejia de Rodas and Rosario Miralbes de Polanco. 1991

more (CP, M)*

$45.00
(paperback) sh
³Maya Culture & Costume: A Catalogue of the Taylor Museum's E.B. Ricketson Collection of Guatemalan Textiles; Christine Conte with assistance of Jonathan Batkin and Cathy Wright, 1984

(CP, E)*

$14.95
(paperback)

³Identity in Cloth: Continuity and Survival in Guatemalan Textiles. Beverly Gordon with Mary Ann Fitzgerald. Helen Louise Allen Textile Collection, University of Wisconsin. 1992. 38pp (E.)*
$24.00
(paperback)
³Mayan Clothing and Weaving Through the Ages. Barbara Knoke de Arathoon, Nacie L. Gonzalez and John M. Willemsen Devlin (Editors English Edition) Linda Asturias de Barrios and Dina Fernandez Garcia (Editors Spanish Edition), Museo Ixhel, Guatemala, Guatemala. 1999
(ethnological reference on Mayan weaving prior to conquest and its impact, M, CP)*
$54.00
(paperback)

³Weavers of the Jade Needle: Textiles of Highland Guatemala; Maxwell Museum of Anthropology, University of New Mexico, 1976 (20 pgs)

more (W, P)*

$10.00
(pamphlet ) sh

³Tzute and Hierarchy in Solola; Guisela Mayen de Castellanos with the collaboration of Idalma Mejia de Rodas and final chapter by Linda Asturias de Barrios, 1988 (condition, new but shelf-worn)

more (CP, M)*

$32.00
(paperback) sh


³Change in Colotenango: Costume, Migration and Hierarchy; Idalma Mejia de Roas and Rosario Mairalbes de Polanco, 1989

more (CP, M)*

$32.00
(paperback) sh

³Zunil: Costume and Economy; Rosario Miralbes de Polanco; Eugenia Saenz de Tejada. Idalma Mejia de Rodas. 1996

more (CP, M)*

$35.00
(paperback) sh


³ Maya of Guatemala: Life and Dress/Maya de Guatemala: Vida y Traje; Carmen L. Pettersen,. Second Edition. Ixchel Museum, Guatemala. 1976. 274 pages. Includes wonderful watercolor paintings of women and interesting narrative about the different villages, in both English & Spanish
(60 full-page beautiful watercolor paintings, M)*


$50.00
(condition: used book in good condition with dust-jacket, may be x-library) sh

³ Backstrap Weaving: Step-by-step techniques on one of the oldest and most versatile looms. Barbara Tabor and Marilyn Anderson.Watson-Gupill Publications, New York. 1975. 160 pp. (W. P.)*

(used, may be ex library)
³The Unbroken Thread: Conserving the Textile Traditons of Oaxaca, Kathryn Klein (editor), 1997, 162 pages,
$30.00
(paperback)

³The McDougall Collection of Indian Textiles from Guatemala and Mexico, Laura E. Start, M. Ed. University of Oxford, England. 3rd impression 1980, originally printed in 1948, 114 pages+
$12
(paperback)

³Costumes and Weavings of the Zoque Indians of Chiapas, Mexico, Donald Bush Cordry and Dorothy M. Cordry, Southwest Museum Papers #15, Oct 1941, 130 pages
$15.00
( paperback)

³ A Century of Change in Guatemalan Textiles, Ann Pollard Rowe. The Center for Inter-American Relations. 1981 (E, CP, M)

$32.00
(paperback) sh

Arts & Crafts
³Indian Crafts of Guatemala and El Salvador. Lilly de Jongh Osborn, University Oklahoma Press, Norman. 1965, 278 pages. (Out of print)
$25.00
(paperback in good condition - may be ex-library)

³Arts and Crafts of Mexico. Chloe Sayer. Chronicle Books, San Francisco. 1990
(good information and beautiful photos, CP)*

$12.00
(paperback with remainder mark)

³Andres Curruchich, Lucecia Cofino de Prera, Museo Izchel, Guatemala, 2000, 20 pages
$20.00 (paperback) sh

³La Pintura de Lago Atitlan, Paola Garcia, Guatemala, 1998, 68 pages (in Spanish)
$18.00
(paperback)
³Arte Naif, Guatemala UNESCO, Linda Asturias de Barrios, Roberto Cabrera Padilla, Claudia Dary Fuentes, Lucrecia Mendez de Penedo, 1998, 214 pages (in Spanish)
$85.00
(paperback) sh

³Art Naive, Guatemala: Contemporary Guatemalan Mayan Paintings; Linda Asturias de Barrios, Roberto Cabrera Padilla, Claudia Dary Fuentes, Lucrecia Mendez de Penedo, UNESCO, 2001, 203 pages (abbreviated bilingual edition)
$65.00
(paperback) sh

³Introduccion al Arte Naif, Guatemalteco; Claudio Gonzalez, Blanca Estela Alvarado, Oscar Perdomo, UNESCO, 2000, 56 pages (in Spanish)
$20.00
(paperback)

Living Mayan Culture
³Threads Breaking the Silence: Stories of the Women of the CPR-Sierra From the Civil War in Guatemala / Hilos Rompiendo el Silencio: Historias Sobre Las Mujeres de La CPR-Sierra del la Guerra Civil en Guatemala, Compiled by Ramelle Gonzales, 2005, 163 pages
$16.00
(new paperback)
ADD
³The Lake Atitlan Reference Guide: The Definitive Eco-Cultural Guidebook on Lake Atitlan, Richard Morgan Szybist, 2004, 100 pages
(new paperback), signed by author

ADD

³Favorite Recipes from Guatemala, Laura Lynn Woodward, Angelika Bauer (illustrations), 1999, 80 pages
$12.00
(new paperback)

³The Women of Candelaria, Mary Richardson Miller, Pomogranate Books, 1996, 128 pages
$15.00 (paperback)

³A Life of Their Own: An Indian Family in Latin America; Aylette Jenness and Lisa Kroeber (1979) --- out of print


more

$18.00 (hardback, used good-very good condition, may be ex-lib)
³The Return of the Maya, Thomas Hoepker, Dewi Lewis Publishing, 1998, 146 pages (Out of Print--Limited Availability)

$20.00
(hardback, like new, may have remainder mark) sh

³I Rigoberta Menchu: An Indian Woman in Guatemala Edited and introduction by Elisabeth Burgos-Debray. Translated by Ann Wright, 252 pages
$8.50
(used paperback in good to very good condition)

*I, Rigoberta Menchu: An Indian Woman in Guatemala, Rigoberta Menchu, Elisabeth Burgos-Debray (editor) and Ann Wright (translation), (1983). 252 pp. ---

[Living Mayan Culture]

[Civil War & Mayan Experience]
$8.50
(used paperback in good condition, .9 lb)
³Tecpan Guatemala: A Modern Maya Town in Global and Local Context Edward F. Fischer and Carol Hendrickson, 2003, 164 pages ($65 list price)
$35.00
(hardback, like new, may have remainder mark)

³The Mysterious Maya, George Stuart and Gene Stuart, Published by National Geographic Society, 1977, 200 pages
used hardback, good condition

ADD

Historical Mayan Culture
³Everyday Life of the Maya, Ralp Whitlock, NY, 1976, 175 pages
$12.00
(hardback, like new, may have remainder mark)


³The Lords of Tikal: Rulers of An Ancient Maya City, Peter D. Harrison, 1999, 208 pages ($60.00 list price)
$35.00
(hardback, like new, may have remainder mark)

Music
³T
$15.00
³T
$15.00
³INSTUDIANTINA Instituto Estudiantina Indigena Santiago, traditional music from Guatemala that helps support a boys school
$15.00
Books to Check for at Your Library on Mayan Textiles, Crafts, Culture and Lives

Sometimes we have one or two second-hand copies available for sale if you are interested - ask us lynn@terraexperience.com
Altman, Patricia B., and Caroline D. Wes, Threads of Identity: Maya Costume of the 1960's in Highland Guatemala; Fowler Museum of Cultural History, Univ. of Cal, LA, 189 (M, CP)
Anderson, Marilyn. Guatemalan Textiles Today. Watson-Guptill Publications, New York. 1978, 200 pp (W, PD)*
Anderson, Marilyn and Jonathan Garlock. Granddaughters of Corn: portraits of Guatemala Women. Curbstone Press. Willimantic, CT. 1988, 124 pp (M, beautiful black and white photos and a difficult message from the Guatemalan civil war)*
Annis, Sheldon. God and Production in a Guatemalan Town. University of Texas Press, Austin, TX. 1987, 197 pp (M, ET-San Antonio Aguas Calientes, Guatemala)*
Ardren, Traci. Flowers for the Earth Lord: Guatemala Textiles from the Permanent Collection. Lowe Art Museum University of Miami, Coral Gables FL 2006 164 pp (E, M, CP, in Spanish and English)
Asturias de Barios, Linda, Comalapa: Native Dress and its Significance; Ixchael Museum Publications, 1985. (M, ET, CP)
Atwater, Mary M. Guatemala Visited February - March 1946, Reprinted April 1965 as Shuttle Craft Guild Monograph Fifteen. Distributed by Craft and Hobby Book Service Big Sur, CA 1965 (W, PD)*
Bertrand, Regis and Danielle Magne. The Textiles of Guatemala. Studio Editions, London. 1991. 96 pp (CP, PD)*
Bjerregaard, Lena, Techniques of Guatemalan Weaving. Van Nostrand Reinhold. New York. 1977. (W, PD)*
Blum Schevill, Bargot. Maya Textiles of Guatemala: The Gustavus A. Eisen Collection, 1902. University of Texas. Austin. 1993. (CP, E)*
Conte, Christine with assistance of Jonathan Batkin and Cathy Wright, Maya Culture & Costume: A Catalogue of the Taylor Museum's E.B. Ricketson Collection of Guatemalan Textiles; Taylor Museum, Colorado Springs Fine Arts Center, Colorado Springs,CO 120 pp 1984 (E, BW, M)

Dallas Muesum of Fine Arts, Guatemalan Textiles from the Collection of Patsy and Raymond D. Nasher: July 16-September 14, 1980, 16 pp 1980*
Dawson, Douglas, Vestido Con el Sol: Traditional Textiles from Mexico, Guatemala and Panama/Textiles Tradicionales De Mexico, Guatemala y Panama, June 8 -Sept 16, 1990, Mexico Fine Arts Center Museum, Chicago Il 1990, 34 pp (E, EP)
de Arathoon, Barbara Knoke, translated by Jennifer H. de Keller: Un esbozo hisotico sobre tocados y chachales mayas de Guatemala: A Historical Outline of the Maya Headresses and Chachales of Guatemala, Museo Ixchel del Traje Indigena, Guatemala, Guatemala. 2000, 42 pp. (PD, CP, bilingual)*
de Barrios, Linda Asturias and Diana Fernandez Garcia, translated by Jennifer H. de Keller; Mayan Clothing and Weaving Through the Ages, Museo Ixchel del Traje Indigena, Guatemala, Guatemala. 1999, 172 pp. (CP)*
de Koose, Barbara and Liliana Batres. Guatemalan Native Costumes. pamphlet, Series Conozcamos numbero 7, Guatemala Guatemala. 1990. 12 pp (CP)*
Deuss, Krystyna. Indian Costumes from Guatemala. Second Edition Chas. Goater & Son. Nottingham. 1981, 72 pp (CP, M, PD)*
Dieterich, Mary G., Jon T. Erickson and Erin Younger; Guatemalan Costumes: The Heard Museum Collection. Heard Museum. 1979, 95 pp. (E, CP, M, W)*
Ehlers, Tracy Bachrach. Silent Looms: Women and Production in a Guatemalan Town. Westview Press, Boulder, Colorado. 1990 177 pp. (M. ET-San Pedro Sacatepequez, Guatemala)*.
Foxx, Jeffrey Jay, and Margot Blum Schevill, The Maya Textile Tradition, Harry N. Abrams, Inc., NY, NY, 232 pp (CP, M)
Garrett, Wilbur E (Editor) and Kenneth Garret (photos). La Ruta Maya, in National Geographic Vol. 175, No. 4 October 1989. (CP, M)*
Goodman, Frances Schaill Goodman, The Embroidery of Mexico and Guatemala. 1976.Charles Scribner's Sons, NY, NY, 1976. 81 pp (CP, BW, PD, M)*
Gordon, Beverly with Mary Ann Fitzgerald. Identity in Cloth: Continuity and Survival in Guatemalan Textiles. Helen Louise Allen Textile Collection. The Regents of the University of Wisconsin System. Madison, WI. 1993, 38 pp (E)*
Hassler, Gitta, Maya-Textilien aus Guatemala: Kleider fur die Seele, Volkerkundemuseum der Universitat Zurich, 2006, 240 (in German, CP, M )
Hecht, Ann. Textiles from Guatemala, University of Washington Press, Seattle, WA 88pp (CP, M)
Hendrickson, Carol. Weaving Identities: Construction of Dress and Self in a Highland Guatemala Town. University of Texas Press, Austin, TX 1995. 245 pp (M, ET- Tecpan, Guatemala)*
Jenness, Aylette and Lisa W. Kroeber. A life of Their Own: An Indian Family in Latin America, Thomas Y. Crowell Company, NY, NY, 1975. 134 pp. (M, C, B&W, good overview of family life for Jr. and Sr. High age)*
Klein, Kathryn (ed.), The Unbroken Thread: Conserving the Textile Traditions of Oaxaca. The Getty Conservation Institute. Los Angeles. 1997 (CP, M)*
Knoke de Arathoon, Barbara , Nacie L. Gonzalez and John M. Willemsen Devlin (Editors English Edition) Linda Asturias de Barrios and Dina Fernandez Garcia (Editors Spanish Edition), Mayan Clothing and Weaving Through the Ages. Museo Ixhel, Guatemala, Guatemala. 1999, 172 pp ( )
Lemos, Pedro J. (editor), Guatemala Art Crafts. The Davis Press Inc., Worcester, MA, 1941. 40 pp (B&W, M)*
Looper, Matthew and Thomas Tolles (drawings), Birds and Thorns: Textile Design of San Martin Sacatepequez, Editorial Antigua, S.A. Guatemala, 2004, 77 pp (CP, M)*
Mejia de Roas, Idalma and Rosario Mairalbes de Polanco, Change in Colotenango: Costume, Migration and Hierarchy, 1989, Ediciones Del Museo Ixchel, 142 pp (CP, M)*

Miller, Mary Richardson. The Women of Candelaria, Pomegranate Artbooks, San Francisco. 1996 128 pp (CP, M)*
Morales Hidalgo, Italo. U Cayibal Atziak: Images in Guatemalan Weavings. Four Ahau Press, Guatemala. Second Edition, 1990 (P)*
Museo Ixchel del Traje Indigena, Mayan Clothing of Guatemala (13 minute video), Guatemala, Guatemala. 1994.
Nash, June (editor). Crafts in the World Market, University of New York Press, Albany, NY. 1993. 264 pp (M, ET-San Antonio Polopo, Santiago Atitlan, San Antonio Aguas Calientes, and refuge camps Guatemala)
Nash, Manning. Machine Age Maya: The Industrialization of a Guatemalan Community. University of Chicago Press, Chicago, IL, 1965 2nd edition. 155 pp (M, ET- Cantel, Guatemala)
Pettersen, Carmen L. Maya. of/de Guatemala: Life and Dress/Vida y Traje. Second Edition. Ixchel Museum, Guatemala. 1976 (beautiful watercolor drawings, M)*
Rowe, Ann Pollard. A Century of Change in Guatemalan Textiles. The Center for Inter-American Relations. 1981 (E, CP, M)*
Sayer, Chloe Sayer. Mexican Patterns: A Design Source Book. Portland House, New York. 1990 (CP, P)*
Schevill, Margo Blum. Maya Textiles of Guatemala: The Gustavus A. Eisen Collection, 1902, the Hearst Museum of Anthropology, The University of California at Berkeley. University of Texas Press, Austin, Texas. 1993, 295 pp (M)*
Schevill, Margo Blum and Janet Catherine Berlo and Edward B. Dwyer. Textile Traditions of Mesoamerica and the Andes: An Anthology. Garland Publishing., INC. NY, NY. 1991. 503 pp (M, ET)*
Skoglun, Margaret. Maya Textiles from the Raymon E. Senuk Collection and Exhibition at the Angel Mounds State Historic Site. University of Southern Indiana. 1996. approx 25 pp (E, CP)*
Sperlich, Norber and Elizabeth Katz Sperlich. Guatemalan Backstrap Weaving. University of Oklahoma Press. 1980. 176 pp (W, P, CP)*
Taber, Barbara and Marilyn Anderson., Backstrap Weaving: Step-by-step techniques on one of the oldest and most versatile looms. Watson-Gupill Publications, New York. 1975. 160 pp. (W. P.)*
Tokyo Kasei University. Resplandor de colores: Trajes indigenas Mayas de Guatemala. Kokyo Kasei University Japan, 1998. 168 pp (CP, in Japanese)
Vecchiato, Gianni. Guatemala Rainbow. Pomegranate Artbooks, San Francisco, CA. (CP)*
Ventura, Carol Ann. Mayan Hair Sahes Backstrap Woven in Jacaltenango, Guatemala. , Cookeville, TN. 2002 (PD, W, CP) Bilingual paperback version and neat web site available at: http://plato.ess.tntech.edu/cventura/backstraploom.htm
Weitlaner-Johnson, Irmgard. Mexican Indian Folk Designs: 252 Motifs from Textiles. Dover Publications. New York, 1993. (P)

*Zeik de Rodriguez, Judy Zeik and Zeik, Nona M. Weaving on a Backstrap Loom. Hawthorn Books, New York. 1978, 189 (W, PD)*
Mayan Literature:
Mayan Music:
Guatemalan Civil War
Guatemala's Environment and Natural Areas
Mayan Anthropology
to Children's Books to Top of Page