How to Order You can now use PayPal's secure ordering and payment system to buy Terra Experience's products!!!
[Click here] to order the old way using our order form & other payment options
_____________

To Use Terra Experience's secure Paypal Shopping Cart
First, If you are considering buying something, just click on the shopping cart or PayPal "logo" next to the item and it will be added to your "shopping cart".
Then, if you want to pay for the item (or delete it) you can click on or

(found in left margin or at the bottom of each page) and it will show what you have selected. Paypal will then ask if you want to purchase it, and walk you through how to pay for your order using a system that is secure for credit cards or other electronic forms of payment.
When you check out you will be able to use your credit card directly to pay or you can sign into your Paypal account to pay.

Note: You can pay using your credit card directly. Paypal encourages you to set up a Paypal Account, but you don't have to.
Shopping Cart Screen --The shopping card screen gives you the option to "Check Out" or to "Check out with PayPal" (see below). Click on the "Check out" button to use your credit card.

The Check Out Screen ---
On the

check out screen, if you want to use your credit card --- choose the option "Credit Card" (as in the picture below) and then fill out the requested information.
.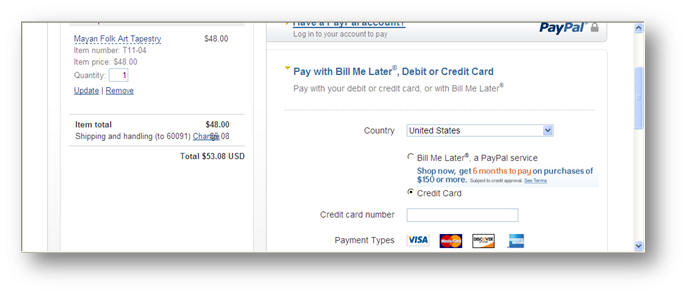 Most of you who use Ebay are familiar with Paypal, as one of the major options that Ebay sellers and buyers use for secure payment. If you aren't and would like more information on PayPal click on
. There is no fee for you, the buyer, when you use Paypal.
To Use Terra Experience Order Form & Other Payment Options
You can choose to use our old order form (read options below) and pay by check or money order (make out to Terra Experience) . You can also click on the Paypal icon on our home page to pay by secure credit card.

mail it to:
Terra Experience
2140 Regent St., Madison, WI 53726

Or you can call us at (608)231-1247 and tell us the information over the phone.

Or you can e-mail us at lynn@terraexperience.com with your phone number and the best time to call you and we will call you back (usually within 24 hours).

Or you can fill out the order form (suggest using the WORD format), save it, and include it in an email to lynn@terraexperience.com and call 608-231-1247 to give us your credit card information.

Order form. Click on your preferred format for a printable version:

Word (2000) Format (Best option)

HTML Format (If you don't have access to Word)
How to Contact Us
Telephone (608)231-1247 (shop) or
(608)849-8720 (web-home)
Postal address
Terra Experience, 2140 Regent St., Madison, WI 53726
Other Options for Purchasing
Our Guarantee
We want you to be completely satisfied with our products. If you are not, notify us within 30 days and return the item. Depending on your choice we will refund your money (minus original cost of shipping) or give you a credit on another item.