The small back-strap looms are doll or small child size is from San Antonio Aguas Caliente. They come in yellow, red or blue. Each loom contains all the rods of a backstrap loom, in a scale that might be used by a young Mayan girl as she tries her first weaving.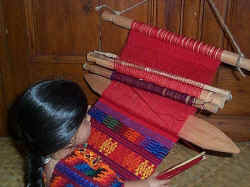 Even if a Maya girl of seven or eight might weave on a backstrap loom most of us in the US or Canada need to be experienced weavers to actually use the loom. So, unless you are a weaver, its probably best plan to use it as a wall hanging or loom display with your doll.

The pictures below are of the weavers of these looms, Dora, her Mom and one of her daughters. One of Dora's other daughters has started medical school. The family is all working to support their everyday needs as well helping her. Its been difficult and Dora was ill earlier this year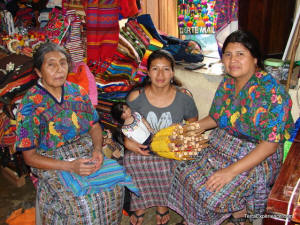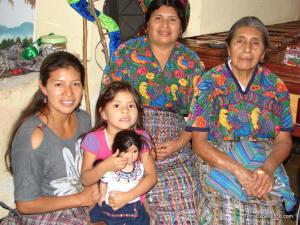 Some of the weavings have the characteristic San Antonio Aguas Caliente weavings where the design looks as good on the back of the ma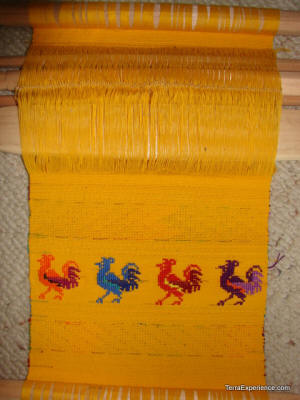 terial as on the front.

If you are interested in learning more about about San Antonio Aguas Caliente you might want to purchase or get from you library the book "A Life of Their Own" by Aylette Jenness & Lisa Kroeber. For more about Guatemala weaving check out our "Mayan Experience" web page.
Please note the safety warning below. The traditional small looms make great educational displays and decorative wall items, but children should not play with them, unless under adult supervision.